Six-year-old John Zorbas of Colonie can't wait until he's big and strong enough to lift ballerinas high into the air – and he's well on his way.
Zorbas will be dancing with the New York City Ballet in their production of "Firebird" at the Saratoga Performing Arts Center through a program that has been in place since 1968 that allows young local dancers to take the stage with the renowned ballet company.
"I'm so excited to be dancing in the ballet," said Zorbas, who has been dancing for a year now.
His mom, Colleen Zorbas, said she first started seeing hints of interest in ballet from her son when he was 3 years old.
"He'd watch his sisters dance … I always knew he had something just in him and he knows he's doing a good job," she said.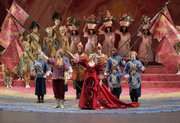 John's sisters, Calista, 12, and Eemetra, 9, have been dancing for several years.
Colleen Zorbas added that at first John didn't see any other boys but he doesn't let that worry him. She's also seen a lot of other benefits for her son.
"His balance is great … he also really appreciates the arts and notices things when he watches ballets," she said.

Every year, over 200 local dancers audition to take the stage with the ballet company. Zorbas is one of 19 dancers who made the cut for this year's ballet season at SPAC, which will be in residency until July 21. SPAC's Director of Arts Education Siobhan Dunham said this partnership dates back to at least 1968, two years after SPAC opened.
She said that at 6, Zorbas is a little on the young side to be starting ballet, and is especially young for a boy.
"Boys tend to come to it a little bit later…it's often not on their radar unless they have sisters who dance," Dunham said. Performing with the ballet can be a priceless experience for any dancer, though.
(Continued on Next Page)
Prev Next
Vote on this Story by clicking on the Icon