continued — "We should all be disappointed if we don't accomplish those goals," Immelt said to a large gathering of workers at the event.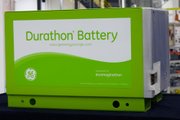 GE also introduced its first customer for the new batteries. Megatron Federal of Johannesburg, South Africa, has signed a purchase agreement to order 6,000 batteries, which will be delivered in 2013 at a cost of $60 million.
Brandon Harcus, division manager of Megatron Federal, said some people "living in the GE culture" might not realize how big and far reaching GE is and the "effect it can have on many lives."
Harcus said throughout Africa there are hundreds of thousands of diesel generators pumping carbon emissions nonstop into the air to power telecommunication towers. The typical battery technology used is lead-acid and requires two air conditioners running constantly to keep it from overheating. The air conditioners represent 40 percent of the battery power costs, he said.
The old batteries also require 10 hours to charge, while GE's new batteries only take two hours to fully charge and no cooling is required, he said.
"I'm very excited about this business," Harcus said. "We are trying to introduce some new products with great technologies that will complement this battery."
Immelt said the company would expand its battery business outside of the telecommunication industry, too, into other applicable areas.
"We'll continue to expand the business into new areas beyond telecommunications to build the next generation of energy-efficient buses, locomotives and mining vehicles around the world," he said.
Tours of the new facility were given at the grand opening, which showed the production steps to create the batteries.
First, a ceramic power formulation mixer combines the "powder" used to make the ceramic tubes, which are how the batteries are able to work more effectively. Then the material is milled to reduce the size of the particles to allow for spray drying. When dry, the powder is pressed to create a tube, which is "fired" to create ceramic tubes.
Vote on this Story by clicking on the Icon