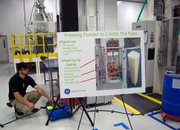 continued — Additional elements are added to the tube before an individual cell is assembled and filled, allowing for current to be collected. Many cells are then assembled into a battery case and management system, which forms the final product after cells are laser wielded together.
Immelt said have GRC positioned in Schenectady County is a benefit for continued investment in the region.
"We can basically build things today almost anywhere, so in some ways having the proximity close to the GRC makes the Capital Region maybe more competitive today than it's been in the past," he said.
Immelt said the company "loves" the GRC being located in the county and it's good to manufacture products around where they're invented.
"The state has been supportive, the workforce has been supportive, there is no reason why we can't do more things here," he said. "As long as we can compete and innovate, there is no reason why GE can't do more things here."
Vote on this Story by clicking on the Icon