BETHLEHEM — Traffic was stopped the afternoon of Wednesday, July 11, after a tractor trailer caught fire on the Delmar Bypass, according to Elsmere Fire officials.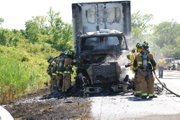 Elsmere Assistant Fire Chief Jim Regan said Albany County emergency operators received several calls about the tractor portion of a semi being on fire in the area around 3:15 p.m. Soon, fire officials called for mutual aid from the Selkirk Fire Department.
All northbound lanes were then shut down from Kenwood Avenue to the Route 9W split and remained closed for about two and a half hours while fire fighters extinguished the fire, according to Regan.
The driver of the Con-Way Trucking rig escaped without injuries, said Regan. The driver told fire officials he saw black smoke coming out from under the hood, and immediately pulled over. He then said the tractor "exploded in flames." The driver told fire officials he thought the fire may have been caused by malfunction in the fuel line or the oil cooler.
The trailer container a load of Hannay Hose Reels. The reels are manufactured in Westerlo for use on fire trucks, according to the driver.
Vote on this Story by clicking on the Icon