NISKAYUNA — Being green is increasing in popularity and area environmental stewards can now rest easier knowing even after they pass their footprint will be a little smaller.
The Albany Roman Catholic Diocese has opened the Capital District's first "natural burial" ground at the Most Holy Redeemer Cemetery in Niskayuna. Natural burials, devoid of the careful primping shown to typical gravesites, are blossoming as a green alternative to traditional burials because there is less impact on the environment. The cemetery's new Kateri Meadow Natural Burial Preserve will serve as a more "wild" area for the green burials.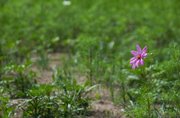 The 20,000-square-foot burial ground is named after Kateri Tekakwitha, an Auriesville native who will be canonized as the first Native American saint in October. Albany Roman Catholic Diocese Bishop Howard Hubbard will formally dedicate the new burial ground in early September, but burials are permitted now.
Although a Delmar couple recently purchased the first plots at the preserve while pre-planning their funeral arrangements, Family Services Manager of Albany Diocesan Cemeteries Maureen McGuinness said interest in green burials is slowly gaining ground.
"Many Catholics who strive to be good environmental stewards … they may want to make a statement at their death and this gives them the opportunity," she said. "There are changes in demographics and baby boomers have been more concerned about the environment than maybe their predecessors have been."
For the past month, she said there has been at least one call daily on the natural burial option. She also stressed there is nothing wrong with traditional burials.
"This is of interest to some people. It is obviously not going to be of interest to everyone," she said.
The neatly trimmed and traditional burial plots are a stark contrast to the natural burial ground, with a mostly untrimmed and unmaintained appearance. Pesticides and fertilizers will not be used on the burial preserve. There is currently a line of small stones separating the natural ground from the maintained lawn.
(Continued on Next Page)
Prev Next
Vote on this Story by clicking on the Icon