continued — "This will just be mowed down in the fall and that's it," McGuinness said. "It is not going to be a neat, manicured look."
Wildflower seeds indigenous to the region were strewn across the preserve, including various daises, coneflower, calliopsis flower and fittingly forget-me-nots. By the fall, she hopes the meadows will hold a lush appearance.
"It is all things you would find naturally growing here had everything been undisturbed," said McGuinness. "It is also a forever wild area behind this area."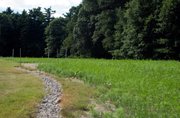 In addition to the nearby preserve, the Niskayuna cemetery was chosen because it was thought to be centrally located in the Capital District and has room for expansion, according to McGuinness. The 100-acre cemetery holds 260 natural plots.
Only cloth burial shrouds, willow baskets or metal-free pine boxes are allowed in the preserve, as opposed to a traditional casket where metal or other chemicals are used. Burial vaults are also not permitted in the burial preserve. Embalming isn't required and if done would require the use of naturally occurring substances as opposed to chemicals.
"In certain religions, a burial shroud is always used," she said. "For mainstream Christians, this is a giant leap, but Jesus was buried in a shroud, so for some people it is getting back to the roots of Christianity."
Also, a traditional upright or flush monument, or gravestone, isn't permitted in the area. Memorials are limited to natural granite blocks supplied by the cemetery, which can have the name of the deceased and dates of birth and death sand blasted into it.
"There is a lot less energy expended when you are not having a monument or marker shipped in and you are not bringing equipment in and out to do that," she said.
The plots for natural burials are bigger than traditional spaces, with a site at the preserve totaling $1,500, which includes the granite marker. Other sites at the cemetery range from $750 to $1,150, McGuinness said, but those would require the additional costs of a burial vault and the marker or monument. Every burial includes an interment fee to open and close the site.
Vote on this Story by clicking on the Icon