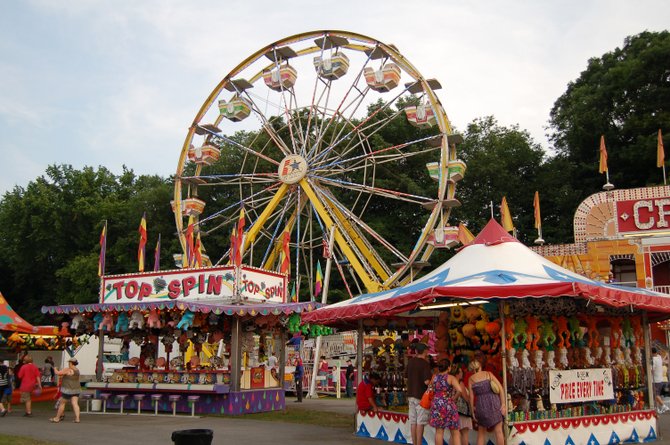 continued — "The exhibits are the last part of their educational component, being evaluated. It's everything from dresses they've sewn to flowers they've grown," she said.
She added the animals are a big draw for folks to the fair because a lot of it is tradition and it's something that the whole family can come and see.
"It's an opportunity for them to share with the public what they've done all year. … We also have some exhibits oriented to science and technology like robotics that we've been incorporating for the past five to eight years," said Fairley.
"Agriculture is an extremely important part of the fair…it gives children the connections to where their food comes from," said Farnsworth. She added that food is the biggest draw, after the animals.
Of course, the animals aren't the entire fair, and there are some additions to the venue itself this year, including a new power line and two new buildings.
Programming-wise, new this year are The Paul Bunyan Lumberjack Show, vegetable spearing and mouth juggling by Matt Baker (a spear mounted atop Matt's helmet helps) and Haai, Inc.'s Live Shark Encounter.
Fair Vice President Frank Griffin said that the shark show includes two tractor trailers, one equipped with an aquarium. As of Tuesday, July 10, the trailers had arrived and were being set up.
"It's a great new addition. … The fish tank opens on the side and the second trailer is a living shark museum with shark skeletons. It's not just a show," said Griffin.
He added the fair has witnessed such success because "there is something for everyone to see from 8 to 80."
Carnival elements such as the midway and rides are also always a hit, as are the musical acts.
Music in the Live Music Pavilion will include J. Collins, Skeeter Creek and Lost Cantina. According to Farnsworth, many acts come from as far as Nashville to entertain the masses at the fair.
The fairgrounds are located at 162 Prospect Street in Ballston Spa. The Fair is open 9 a.m. to midnight daily and the midway is open from noon to midnight every day, except Sunday when it closes at 11 p.m. The Live Music Pavilion is open every night at 8 p.m. Concessions are open daily from 10 a.m.to 10 p.m.
General admission is $10 with special gate premiums offered Tuesday, Wednesday, and Thursday. Parking in all lots managed by the fair is free.
For more information on the fair visit saratogacountyfair.org.
Vote on this Story by clicking on the Icon