continued — Kyratzis has had friends, diner employees and various contractors helping out with renovations, and he is shooting for an Aug. 1 opening.
"We got a lot of work to do until that time," he said. "I need at least one week of cooking just to start up again."
Carina Moran, a 16-year-old Scotia resident, had worked at the diner for five months before it vacated the former location. Moran has been helping out with renovations at the new site because she wants to get back to work.
"I got used to doing that, and I don't want to change now," Moran said. "Usually you hear people talking about how they hate their jobs, but I am one of the people that talks about how much I love my job."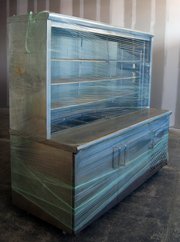 The floor contractor is set to start work this week, and Kyratzis hopes to begin painting this week. Many of the plans Anita Kyratzis said she wants to keep under wraps to surprise customers at the grand opening.
Renovations were on budget until state officials on April 25 ordered all work to stop since the property wasn't surveyed for hazardous materials. Asbestos removal ended up totaling around $35,000.
"We never even thought of that and nobody told us about that survey," Kyratzis said. "We learned it the hard way."
Now the budget is around $120,000, but some concessions had to be made to stay on target.
"Some of the things we wanted done, we had to put on the back burner," he said.
The diner will also have a bakery, but Anita Kyratzis said the bakery likely wouldn't open until later. Terry Kyratzis plans to make more improvements to the new diner after opening and starting to generate revenue.
Anita Kyratzis said she has tried to keep everyone upbeat while working on the diner and she's kept customers updated through its Facebook page. She said her motivation to continue is driven by her son.
"I want my son to have something," she said, "I want a legacy for my son."
Vote on this Story by clicking on the Icon