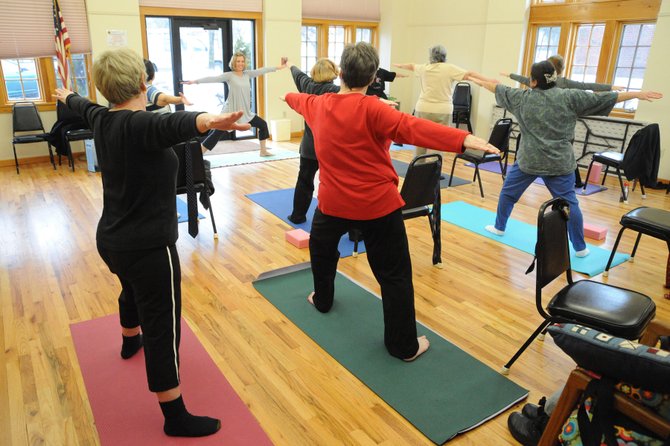 Saratoga — Seniors get moving at the Saratoga Adult and Senior Center on Henry Street. Yoga and ceramics are just a couple of activities at the center that promote mobility, creativity and socializing.
Submitted photo.
Last year, there were 36,815 people eligible for Medicare residing in Saratoga County. That makes for a sizable population of seniors who need something to do, and the Adult and Senior Center of Saratoga on Williams Street in Saratoga Springs is trying to fill that niche.
There are plenty of classes, activities and trips year round at the center, but on Thursday, July 19, from 6 to 7:30 p.m., it will be presenting something different: a healthy ice cream social.
The event is being put on by Care Improvement Plus Insurance and will include a short presentation followed by a dance with a disc jockey and, of course, ice cream. The event is open to the public and cost is $3 for center members and $6 for non-members.
Kane Pigliazento, a community relations manager from Care Improvement Plus, will be hosting the event. He originally approached staff at the center about Healthy Choices, a national program with roots in Texas. The events reached the Capital Region about six months ago.
"I had been working with the idea to put on educational programs to help reduce risks of injuries and early death. … It helps with current and future health of our seniors," he said.
The company's Healthy Choices program is practiced nationwide, and focuses on getting seniors to explore healthy lifestyle choices such as living actively, living right, socializing and making regular doctor visits.
"It works with what we sell and helps with the current and future health of seniors. … It's important because it helps to focus our outreach and education within the communities we serve," said Pigliazento.
(Continued on Next Page)
Prev Next
Vote on this Story by clicking on the Icon