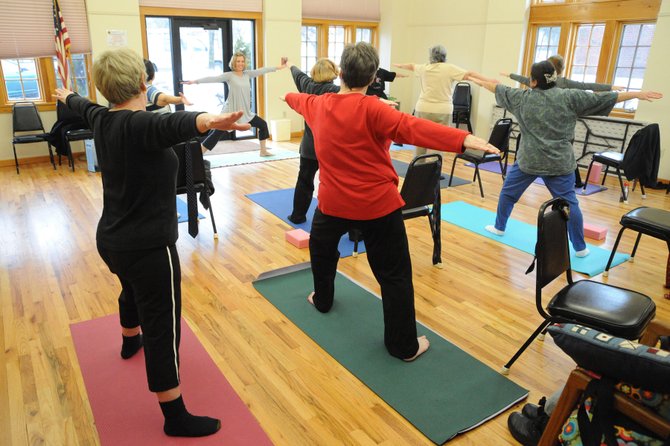 continued — Senior Center Administrative Assistant Colleen Kelley said the center had always wanted to do an ice cream social but wanted to figure out a way to do it just a little healthier. The perfect opportunity arose when Pigliazento brought forward his program.
The social will indeed include frozen treats, but regular ice cream won't be among them.
"We'll be serving frozen yogurt, light ice cream and fresh fruit for toppings along with sugar-free chocolate sauce," said Kelley.
Pigliazento said the programs are popular across the country and they give seniors the tools they need to tweak their diets and information on how to do exercises like Zumba or yoga while remaining active and not risking injury. It's also a chance to get folks talking with one another, and it's his favorite part about presenting the programs.
"Seniors also have great stories and knowledge and we don't always tap into that. My favorite part is after an event when everybody's sitting around talking, sharing those stories," he said.
Thursday's event is privately sponsored, but it goes hand in hand with programming the center is already offering. Every year, the Adult and Senior Center puts on many activities offering everything from ceramics classes to yoga and cooking lessons.
Lois Celeste has been the center's executive director for the past two years. She said that in that time membership has grown from 330 members to 1,200 and that offering many opportunities like Thursday night's program for seniors is part of the center's overall growth.
Prior to Celeste being on board, the center had "run on a deficit," but growth has been steady recently.
"The support has been tremendous and the community really rallied around us," said Celeste. She added that the center has been the recipient of grants and donations that have helped a lot, including a donation from Alfred Z. Solomon Charitable Trust in the amount of $65,000 that will go toward installing a covered carport at the front of the building.
"Our goal is to keep seniors active. … We have healthy recreational programs and social activities all year long," said Kelley.
For more information on the event and others at the center visit them on the web at www.saratogaseniorcenter.org.
Vote on this Story by clicking on the Icon