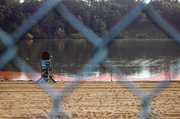 continued — When lifeguards tried installing the docks in the swimming area, the deposits were stirred up again.
The alum treatment cost about $18,000, but FEMA is going to reimburse the expense, according to Marx. Village officials talked to the state Department of Environmental Conservation about possible solutions, and it suggested the alum treatment.
Another measure, trying to draw down the lake to remove sediment and topping off the beach area with sand, was also unsuccessful. Since the entire lake was affected, the spot treatment didn't work.
Scotia Mayor Kris Kastberg said even though there are a lot of people who don't swim at the beach, choosing instead to lay in the sand, the whole beach must be closed over the visibility issue.
"It is one of those things where you can't do anything about it," Kastberg said. "It is too bad because we are the only sand beach in Schenectady County and we get a lot of use from different people."
He said the village had to cancel its summer swim lesson programs and the pavilions outside of the fenced in beach area will likely see much less use. The spot is popular for hosting birthday parties and family gatherings, he said.
Now, the village must wait for nature to run its course, but are implementing a "fill and flush" approach to help it along.
To flush the lake, the village pulls out the board in the dam at the east end of the lake. The water then flows into a creek that enters into the Mohawk River. After flushing, the lake naturally recharges itself with groundwater from springs along the north shore.
"What we are being told is to get this sediment out of the lake, it just has to flush itself," Kastberg said.
He said nobody has a "good handle" on how fast the lake will turn over and clear itself out.
"Sometimes, Mother Nature just wins," Marx said.
Vote on this Story by clicking on the Icon