The owners of Universal Laundromats are working hard to change the negative views some people might have when it comes to doing laundry outside of the home.
"Our business philosophy is to provide the most comfortable, clean and safe setting for this type of operation," said co-owner Aaron Flach. "There's a little bit of a stigma in people's mind when they think of their typical Laundromat … we're trying to reverse that trend by providing first-class facilities."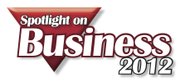 The Flach family opened their first facility nearly 30 years ago. Since then, they have focused on providing good customer service and up-to-date equipment. They now own three locations. Two are in Ravena and Coxsackie, while their newest acquisition is on Delaware Avenue in Bethlehem.
In August of 2011, co-owners Aaron Flach and Wayne Flach purchased the former So-White Laundry housed next door to Jim's Tastee-Freez. The building has been extensively renovated and remodeled with a new, high-efficiency water heating system installed to save energy. All of the equipment has also been updated to provide faster service.
"We basically started top to bottom," said Aaron. In the near future, the facility will also have new televisions installed and free Wi-Fi will be available for customers.
Wayne said the remodel has proven popular with local residents and has helped improve business at the Bethlehem location. The Flachs said they strive to provide quality service and be responsive to patrons in a timely manner. When an attendant cannot be in one of their facilities, contact information is left for customers in need.
The owners said they want Universal Laundromat to be synonymous with a quality in people's mind, so customers don't have to worry when they step into one of their facilities.
"There is nothing more that bothers us than when we go to a business and there's an attitude of indifference toward the customer," said Aaron. "That is a very typical attitude in this type of business and we are not that way at all. We care about every customer and want to look out for them."
(Continued on Next Page)
Prev Next
Vote on this Story by clicking on the Icon