NISKAYUNA — A group of Niskayuna rowers are looking to alleviate tight space at a local club with plans for a new boathouse.
The Niskayuna Town Board on Thursday, July 12, held a special meeting and unanimously approved pursuing a state Department of Environmental Conservation grant for up to $10,000 to perform a feasibility study for waterfront development at the former Aqueduct House property. The town and Friends of Niskayuna Rowing would each pay $5,000 to match grant funding if awarded in the full amount. The funding would come from the town's 2012 Mini-Grant Program.
Councilwoman Denise Murphy McGraw was absent from the meeting.
The study would target the town's former Aqueduct House property, which was demolished last year after repairs became too costly. Supervisor Joe Landry previously estimated repairs could total about $120,000. Asbestos abatement and demolition costs were around $25,000.
"We are very excited," Landry said. "This is something to keep this moving and to get some recommendations out of a study."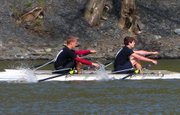 From the onset of demolition, the Friends of Niskayuna Rowing expressed interest in building a new boathouse on the property. FNR Co-President Richard Marine read a letter of support on behalf of the group for the grant application at the Town Board meeting.
"This grant, if awarded, will provide the means necessary to continue the good work and partnership already established between the Town of Niskayuna and FNR," Marine said. "The improvements would also benefit every one of the thousands of people that visit the park annually."
The Niskayuna Rowing club is seeking to build a public use building with public restrooms in addition to a new boathouse. Marine said the facilities would further establish Aqueduct Park as a popular site for non-motorized boaters.
There are no sewer connections into the park, so the study would evaluate if the property would support a septic system.
(Continued on Next Page)
Prev Next
Vote on this Story by clicking on the Icon