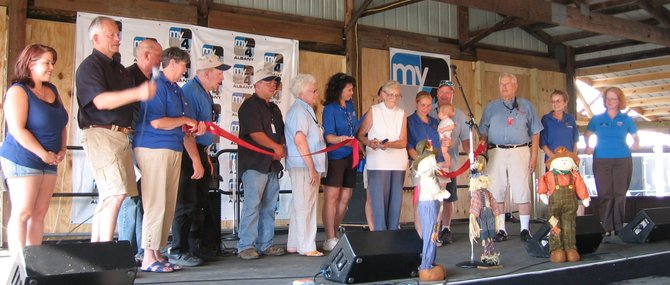 continued — Vice President of the fair, Frank Griffin said that a few years ago he tried to get something along the lines of A Taste of Saratoga off the ground, though it never took off. Having the beer and wine at the fair is perhaps a first step in what may develop into Griffin's idea in the future, though.
"It's not dead yet," he said.
On Monday, Assemblyman James Tedisco read an official New York Assembly Citation in recognition of the fair's 171 years running, making it the oldest fair in the state. He said his family would all pile into the car and head to the fair and remembered the great food, rides and 4H along with looking at the animals
He also recalled playing his favorite fair game, basketball.
"We had to make three, I could really do that on occasion many years ago and won a teddy bear every once in a while," he said.
The former Union basketball player added he managed to impress a few dates with his hoops skills.
Town of Ballston Supervisor Patti Southworth spends the week at the fair every year since she took office. Her first fair was in 1978.
"The fair is one of the best ways to showcase the county and our way of life," Southworth said. "My favorite is the dairy barn, I don't think there's anything better than the kids showcasing their animals."
Debora Leahy is a new volunteer at the fair among displays att he grandstand showcasing the Saratoga County Schools.
"I grew up going to the fair and I'm excited to be back now," said Leahy.

Programming-wise, new this year are The Paul Bunyan Lumberjack Show, vegetable spearing and mouth juggling by Matt Baker (a spear mounted atop Matt's helmet helps) and Haai, Inc.'s Live Shark Encounter.
The 171st fair runs from Tuesday, July 17, through Sunday, July22, at the Saratoga County Fairgrounds. General admission is $10. For more information on the fair visit saratogacountyfair.org.
Vote on this Story by clicking on the Icon