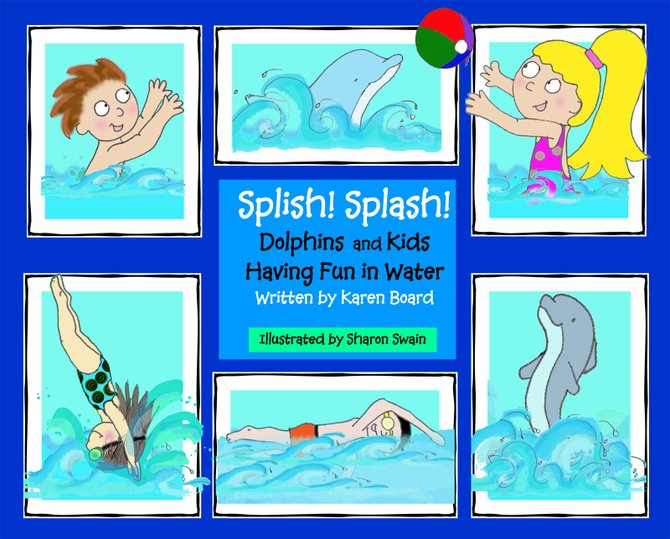 Burnt Hills — With the start of the Summer Olympics just around the corner, there may be some young aspiring swimmers out there wanting to learn a little more about the sport.
Karen Board of Burnt Hills anticipated the arrival of the games and the hopes of young athletes a couple of years ago and has timed things just right to have her first book entitled "Splish! Splash! Dolphins and Kids Having Fun in Water" to debut this summer.
"Every four years swimming is on TV with the Olympics and there's a tendency for a lot of children to want to join some teams, especially with Michael Phelps being in the spotlight so much," she said.
Board is a teacher and lives in Burnt Hills. She has taught at the South Colonie School District and currently teaches preschoolers at Head Start in Galway.
She said she's always wanted to write a children's book and drew on her experience as a teacher and swimmer when writing "Splish! Splash!" Board was a competitive swimmer through college, and now her sons who are 10 and 12have also made swimming their sport.
She got the idea to write the book while at one of her son's swim team practices. The team is called the Parkside Porpoises, and that in turn got Board thinking about dolphins and researching them.
"The more I researched dolphins, the more I realized that they're quite similar to humans … very smart and playful and friendly," she said.
Her original idea was to write a story only about swimming, but dolphins added a way to deliver the message in a fun and light way. She also used the topic to approach another goal: writing about different swimming strokes.
"I've never seen a children's book that actually shows the swimming strokes broken down," she said. "I wanted to show what the arms are doing, what the legs are doing and how the breathing is."
(Continued on Next Page)
Prev Next
Vote on this Story by clicking on the Icon