GUILDERLAND — After the New York Giants organization opted to hold training camp in East Rutherford last year instead of in Albany due to the league-wide lockout, fans are excited for the team's 2012 return.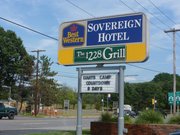 The upcoming training camp is especially good news for local businesses. Many saw a significant dent in revenues for 2011 after it was made clear area restaurants, hotels and coffee shops wouldn't be getting the patronage of Giants fans.
"It had a huge impact on the whole entire area," said Mike Arduini, owner of Across the Street Pub on Western Avenue.
The returning Super Bowl champions have been attending training camp at the University at Albany for 16 years, the team's longest training camp tenure at one place, according to the school. Fans, city leaders and UAlbany officials were disappointed when the team didn't return last year, in part because it is a big draw for tourism.
Arduini said shortly after the decision was made last year by the Giants organization, he received a personal call from the team's owner, John Mara.
"That was nice. He didn't have to do that," said Arduini. "I asked him why he called and he said they have been coming to our restaurant and the area for a lot of years and that he wanted to let us know they weren't coming. (Mara's) the type of guy that if you call the office and he's not there, he will always return a phone call. It's the kind of businessman he is."
Pat Hanlon, a spokesman for the Giants organization, said the team is looking forward to returning to Albany on Friday, July 27.
"We're especially proud to be returning as Super Bowl XLVI champion," he said in an email. "We're grateful for the cooperation and support of President (George) Philip and his staff, as well as Mayor (Jerry) Jennings and his staff and the good people of the Capital Region. We're looking forward to our preparations for the 2012 season."
(Continued on Next Page)
Prev Next
Vote on this Story by clicking on the Icon