GLENVILLE — If a building falls in a long vacant property, it turns out some will hear (or at the very least, see) it.
Glenville police were informed a building partially collapsed at the former Scotia Navy Depot on Sunday, July 15, according to Glenville Supervisor Christopher Koetzle. Now, the town is calling on federal officials to demolish the former administration and commissary building. Federal officials toured the property on Thursday, July 19, to assess the property.
Public Works Commissioner Thomas Coppola said the town secured the area as much as possible on July 15. Building Inspector Paul Borisenko deemed the building unsafe.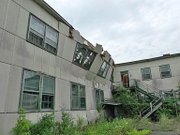 "There was too much weight bearing, probably from the last rain storm we had, and it collapsed in the center of the building," Coppola said.
Police tape was placed around the building and the unsecured front gate was locked with a chain, Coppola said.
"There is no immediate hazards to any residents," Koetzle said on Wednesday, July 18. "Everything seems to be contained at this point and I think we will have a plan tomorrow for going forward with cleanup of that building."
Town Director of Operations James MacFarland received initial remediation plans from the U.S. General Services Administration, the federal government's landlord, on Friday, July 20. GSA hired a contractor to install a fence around the collapsed building on July 20.
"The GSA team is evaluating options for the collapsed building and will develop a plan," MacFarland said. "They did take some pretty quick action to secure the site."
GSA is expected to contact the town again this week. MacFarland said the town has determined demolition is necessary, but asbestos in the building will complicate the process.
"They can't just do a simple demolition, they have to do asbestos remediation at the same time they would be doing the demolition," he said. "We can appreciate that it will take a little bit of time to get that in order."
(Continued on Next Page)
Prev Next
Vote on this Story by clicking on the Icon