BETHLEHEM — Bowling has always been a part of Marvin Sontz's life.
At the age of four, an uncle who owned a bowling center in Vermont began to teach him how to play the sport. A few years later, Sontz would be bowling on a league with his peers and in his teens, would land his first job at Del Lanes in Bethlehem.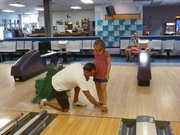 Sontz never left, and 39 years later he is a co-owner of the facility.
"I guess this is just what I wanted to do," said the 56-year-old. "I went to college for physical therapy. I went for four months and I was doing so much here, I couldn't keep up. I then decided to focus my life on this business and here I am."
Sontz and his family bowled at Del Lanes for years and the owner, John German — who had opened the facility in 1962 in the golden age of league bowling — had become friends with the Sontzes. When Marvin was in his final year of high school at Cardinal McCloskey in Albany, his father's scrap metal business failed and the family was unable to pay his tuition. German paid for Sontz's schooling, on the condition he would make it up by working at Del Lanes.
"If it wasn't for my father losing his business, who knows what I would be doing now," said Sontz.
German eventually sold the bowling center to his nephew, Ken Ringler, who made Sontz a manager. In 2003, Sontz bought the business with his friend Bill Cornell.
Now, as Del Lanes marks its 50th anniversary, attitudes toward bowling may have changed, along with the technology needed to keep a bowling alley up-to-date, but Sontz's feelings about the sport are steadfast.
"Bowling is a sport that anyone can participate, from ages 4 to 104," he said.
(Continued on Next Page)
Prev Next
Vote on this Story by clicking on the Icon