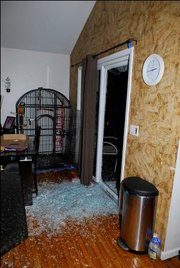 ALBANY — District Attorney P. David Soares on Wednesday, July 25, announced Erica Thomas, 35, of Schenectady, was found guilty after a jury trial of burglary in the second degree, a Class C felony, before Judge Joseph C. Teresi in Albany County Court.
Thomas on July 5, 2011, at approximately 1:40 a.m., unlawfully entered a residence in the City of Albany. She proceeded to steal money from a victim who was sleeping next to his three-year-old daughter, according to the District Attorney's Office. The victim woke up during the incident and began to struggle with Thomas.
Once the struggle ensued, co-defendant Ernesto Santiago, 33, of Schenectady, hurled an object to break a sliding glass door and aid Thomas, according to the District Attorney's Office. The victim then called 911. Neither the victim nor his daughter was injured.
Thomas was remanded to the Albany County Correctional Facility and is scheduled to be sentenced on September 18. She faces three-and-a-half to 15 years in State Prison.
Assistant District Attorney Matthew Hauf, of the Major Crimes Unit, handled the prosecution of this case.
The case against Santiago is pending and awaiting a trial date, according to officials.
Vote on this Story by clicking on the Icon