SCOTIA — Even devastating floodwaters couldn't stop the music at Freedom Park.
"Everyone remembers what a horror show it was last August," Freedom Park Board President Nell Burrows said. "Everybody can remember the pictures of Jumpin' Jack's and Freedom Park completely underwater."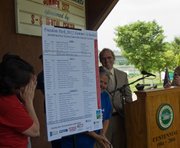 This summer's concert performance schedule at Freedom Park in Scotia was announced on Tuesday, May 29, as village and county officials and sponsors gathered on its stage to welcome the new season. There are 31 nights of entertainment slated to hit the stage located on Schonowee Avenue across from Collins Park.
Funk Evolution, a new addition to the lineup, will kick off the season on Wednesday, June 20, and closing the season is a special tribute performance by the Ernie Williams Band on Wednesday, August 29.
Last year, Tropical Storm Irene flooded the community hotspot, but the Village of Scotia had flood insurance on the property.
Burrows said the mild winter allowed for venue renovations to be completed before the season opening. Workers tore up the floor, carpeting and sheetrock from the backstage area. She said "everything but the toilet" for performers was renovated.
Scotia Mayor Kris Kastberg said there were improvements made to the amphitheater after the flooding, including a new dance floor, new sod and new seating. Also, Kastberg said the boat docks would soon be back in the water.
The village's flood insurance on the property covered all of the repairs, Kastberg said, with funds left over. He said the additional funds would be used to color the dance floor and make a curb cut to allow for handicap access.
County Legislator Cathy Gatta, D-Scotia, said when the park was flooded "everybody was crossing their fingers and all their toes" that the concert season would once again hit the stage.
"We have a lot of really loyal bands that come back year after year and the crowd just loves them," Gatta said.
(Continued on Next Page)
Prev Next
Vote on this Story by clicking on the Icon