SCHENECTADY — Vandals struck the construction site of Schenectady County Community College's new music building in two separate incidents.
BCI Construction Inc. announced the damage on Friday, May 25.
The company is overseeing the $3.5 million project, which includes the construction of a new 12,000-square-foot music wing and renovating Begley Hall. The new building will adjoin the current music wing.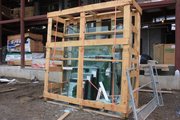 BCI Construction Project Superintendent Troy Cochran said the damage totals "a little over" $5,000, but a final assessment hasn't been completed.
On Saturday, May 19, around 5 p.m., four individuals, appearing to be teenagers, grabbed bricks from the construction site and shattered the windshield and side windows of an excavator, according to Cochran. Also, he said the individuals smashed windows ready to be installed at the new building.
On Thursday, May 24, around 8 p.m., four teenagers, appearing to be the same individuals, returned to the site and smashed a forklift's windows, according to Cochran.
The college's surveillance cameras captured the vandalism, Cochran said, and campus security has turned the tapes over to the Schenectady Police Department.
Lt. Mark McCracken said there is an active police investigation into the vandalism.
McCracken also said the department would not be releasing any video footage unless it asks for media assistance "in identifying any suspects that could possibly be shown."
Vote on this Story by clicking on the Icon