Selkirk — A domestic violence call led to the arrest of a Selkirk man after he allegedly threatened to kill someone within his home and any responding police officers, according to Bethlehem police.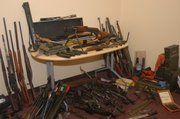 James Domery, 44, of 229 Harrison Lane, was arrested on Monday, June 4, after Bethlehem police officers responded to a domestic violence call. According to the investigation, when officers responded to the 10:30 p.m. call on Sunday, June 3, Domery fled the scene and was believed to possibly be in possession of a weapon. The family was then removed from the home and a search was put in place to find Domery. He was arrested at about 5 a.m. the following days when he returned to the home.
Police obtained a search warrant to investigate the home, and Domery was found to be illegally in possession a large amount of weapons, including a semi-automatic handgun, a machine gun, an assault weapon, a 20-gauge sawed-off shotgun and a revolver that had serial numbers removed, and multiple large-capacity ammunition feeding devices and magazines.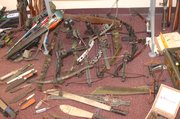 Police said Domery was charged with multiple felony counts of criminal possession of a weapon in the second and third degree. He was also charged with criminal obstruction of breathing or blood circulation, unlawful imprisonment in the second degree, endangering the welfare of a child and resisting arrest, all misdemeanors. A violation of harassment in the second degree was given as well.
After being processed and arraigned in Bethlehem Town Court, police said Domery was transported to Albany Medical Center to be treated for injuries sustained during the arrest. He is currently in the custody of the Albany County Correctional Facility and was scheduled to reappear in Bethlehem Town Court on Tuesday, June 5, at 4 p.m.
Vote on this Story by clicking on the Icon