CAPITAL DISTRICT — Maiya Dargan is only 12, but she already knows exactly what she wants her future to look like.
"One day, I hope of becoming a computer scientist because I love working with computers and the programs on them," said Dargan, a seventh-grader at Myers Middle School in Albany.
Dargan can be one step closer to making that dream a reality with the new Girls Inc. Eureka! Program that will focus on nanotechnology, announced Friday, June 1, at the College of Nanoscale Science and Engineering, where it will take place.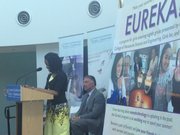 The program is the first of its kind in the country and is the result of a partnership among CNSE, Girls Inc. and SEFCU. It is open to girls attending school in the City of Albany.
"I'm excited to see partnerships such as this. ... This collaboration will create a nexus between education, between industry and the community that we all live in," said Lonnie Threatte, assistant secretary for higher education for Gov. Andrew Cuomo.
The Eureka! program spans five years and is open free of cost to 30 girls entering eighth grade in the coming fall. The four-week summer program begins July 23.For the next five years, it could provide as many as 150 underserved girls an opportunity to explore nanoscience, nanoengineering and nanoscience.
The first two years of the program feature a summer camp experience with hands-on education at CNSE and weekly field trips. The last three years will provide the girls with paid internships with local businesses and organizations and continuing education during the school year.
"The Eureka! program is an example of a public-private partnership that will make the state greater; but the participants in this program are an example of what will make this state even greater," said Threatte. "This collaboration is truly commendable."
In addition to writing a $340,000 check toward the program's $800,000 price tag, SEFCU will support the girls by providing wrap-around programs related to leadership development, workforce preparation, financial literacy and service to the community.
(Continued on Next Page)
Prev Next
Vote on this Story by clicking on the Icon