Maggie Preller said she is no longer nervous about attending Bethlehem Middle School in the fall after meeting more of her future classmates.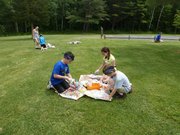 On Friday, June 2, every fifth grade class within the district participated in Survivor Day, held at Elm Avenue Park. In its third year and put on by the district's Health and Physical Education Department, the event is meant to ease the minds of students as they leave the comfort of their individual schools and officially become one as the class of 2019.
"I think it's really helpful, so you can know some of the other people you're going to be with in the middle school before you get there," said Maggie, who attends Hamagrael Elementary School.
According to Frederick Powers, supervisor of the Health and Physical Education Department, for nearly 20 years the event was known as Friendship Day. Eventually the event was discontinued because of the large number of other transition activities being done by the schools. However, some parents and teachers felt the day needed to return to help students get better acquainted with one another. The event was reintroduced and redesigned as Survivor Day.
All of the students are split into 20 "tribes" made up of a mixture of 20 students from the various elementary schools. They participate in a serious of academic challenges and physical activities, and by working together, earn points along the way. The day is modeled after the reality game show on television called "Survivor," and school officials said the students love the competition and challenges.
"This is really important for the kids because it is the time all 400 students have been thrust into one environment and actually put into groups similar to the classes they will be put into at the middle school," said Hamagrael physical education teacher Chris Berschwinger.
(Continued on Next Page)
Prev Next
Vote on this Story by clicking on the Icon