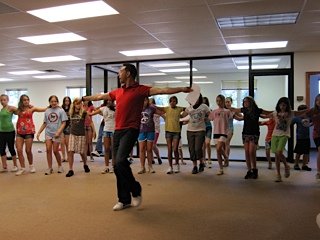 Clifton Park — When summer rolls around, it might seem the like the number of activities for kids is endless. The Not So Common Kids Camp in Clifton Park however, is an experience that is far from common.
The Not So Common Players theater group, whose goal it is to "provide quality musical theater to the residents of the Capital Region", has sponsored the camp since last year. In its first year, the camp hosted 40 children, this year they plan to grow to 50.
The theater troupe is open to town residents of all ages and has been a part of the community since 2002. The camp is open to children ages 8 to 14 and offers both on and off-stage opportunities to campers. Tuition for the camp is $400 and runs from July 2 through 21 from 9 a.m. until 3 p.m. A production of "Annie Jr." will cap off the camp on July 20 and 21.
Jill Ross has been a board member with the Not So Common Players since last year, and involved with the organization since 2009. She said that her favorite part about being involved with organization is "providing people an opportunity to be involved in the performing arts".
"Whether that's as a performer, part of the production team or audience member, that's what community theater is about. Not So Common Kids provides these opportunities to kids, and gives them the skills and confidence they need to keep theater as a part of their life," she said.
David Rossi, a music and chorus teacher in the Schenectady City School District has been a volunteer with the Not So Common Players for the last several years. He said the fact that the program for this summer's camp is nearly full, "speaks well to the program".
Rossi believes music can help all children, no matter where their skills may lie. He sees music as an "outlet" for kids and while some may not excel in math or science, music may just be "a place for them to excel".
(Continued on Next Page)
Prev Next
Vote on this Story by clicking on the Icon