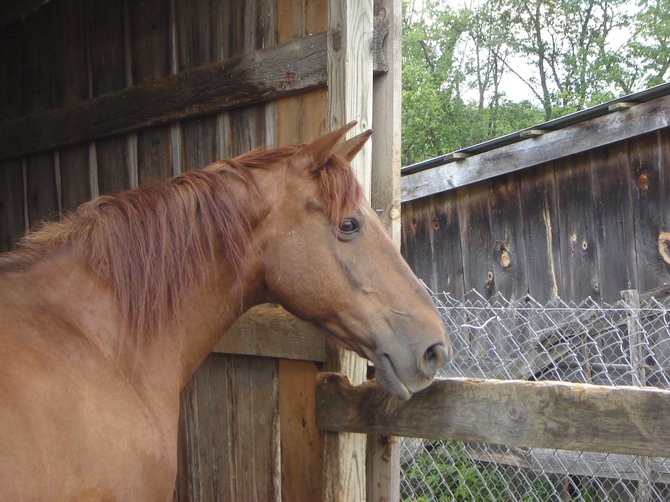 continued — Diamond works several "off farm" jobs to support EquAbility, and is able to offer equine therapy for around 10 children and adults with special needs. Expenses for each of the three horses she owns adds up to approximately $700 per month/per horse.
Whether a horse is providing physical or mental therapy, there is always a leader for the horse and two "side walkers" to ensure safety of the animal and rider. Diamond said that many children with Down syndrome who have a lack of muscle tone benefit by riding because the movement encourages muscle tone. For individuals with autism, therapy can help build up their attention span.
Ronda Fein's son Jon, 27, has autism and has been attending EquAbility once a week since he was 11.
"Barbara is amazing," said Fein.
She said Jon has a lot of sensory issues and is largely non-verbal, but since participating in equine therapy, his speech has gotten better and he "absolutely loves it."
Diamond said that horses are specially trained to be "desensitized" to the many distractions that will arise while being ridden, and they are accustomed to accepting things that are "not normal," such as a rider playing basketball (one of the activities in some therapy sessions).

"If the cognition isn't there, I look to see what engages the individual," said Diamond. Engaging riders can come from just touching the horse's neck to letting it know when to "go" (move forward) as opposed to speaking the command.
Before establishing EquAbility, Diamond has volunteered at many equine therapy organizations including STEP, Saratoga Therapeutic Equestrian Program.
Kay White, a physical therapist with STEP, said that the benefits of equine therapy are many and include "increased postural control, core strengthening, increased balance and equilibrium." She added that it helps an individual improve his or her walking and the ability to use devices like crutches and walkers.
Equine therapy is growing in popularity, and according to the PATH (Professional Association of Therapeutic Horsemanship International) website, they have "nearly 800 member centers and over 6,300 individual members worldwide."
Saratoga Hospital may, in the future offer equine therapy, although Brad Sexauer, a spokesman for the hospital, said the possibility is "only in the talking stages."
For more information on EquAbility or to set up an individual therapy program with Diamond, call 583-1810.
Vote on this Story by clicking on the Icon