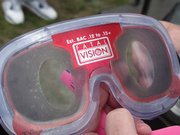 Ballston Spa — On Thursday, May 31, students at Ballston Spa's High School were out and about during gym classes taking part in a three-day program called Smart Choices.
They climbed rock walls, drove golf carts while their senses were impaired and got in and out of cars as fast as they could. While these activities may not seem safe at first glance, they were all done under close supervision and simulated using vision impairment goggles.
The program's goal is to "increase student awareness about the safety concerns of reckless driving and other unsafe decisions made by teenagers."

The messages being delivered were applied not only to drivers, but passengers as well, and included choices related to other teen issues like bullying, alcohol and drug abuse, careers, exercise and nutrition.
Assistant Principal, Kimberly Bolster said when the program started four years ago, it focused primarily on driving safely. Since its inception though, it has expanded to include all kinds of choices teen's face.
"Driver safety is still the emphasis because, if something goes wrong, it's the most immediate and tragic impact," said Bolster, adding that, "in the past two years we've expanded to healthy choices in general."
Occupant Protection Instructor Cindy Dort of Cornell Cooperative Extension of Saratoga County started the Smart Choices program. She has four sons, two who have graduated from Ballston Spa and two currently attending. She posed the idea of holding a teen driver safety program and the school agreed.
A $15,000 grant from Allstate helped Dort purchase a golf cart and fatal vision goggles to simulate what it would be like to drive under the influence of alcohol and drugs, just one of the demonstrations kids got to participate in.
Junior Garrett O'Grady drove "under the influence," outfitted with a pair the goggles. While he was able to steer along the marked course, he did veer off of it a lot and remarked that "it was hard to judge," and he didn't feel at all "in control."
(Continued on Next Page)
Prev Next
Vote on this Story by clicking on the Icon