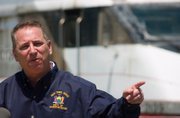 continued — Glaser said the project was "plagued with problems" and the engineering wasn't properly done. He said the track work allowing the trains to run wasn't done and the trains were incompatible with the rest of the Amtrak system. The air conditioning also didn't work, and the trains required special parts.
Amtrak towed three trains with the most rehabilitation to Delaware, Glaser said, with the remaining four falling in the state's hands.
"It is not really clear these (trains) can ever be used," he said. "They are basically rusting hulks at this point."
The state will work with a technology parts broker to assess the value of the trains and equipment, with a plan to sell the equipment to be determined by the end of the year.
Glaser isn't expecting a windfall of funds though since the trains could be sold for scrap metal "at pennies on the dollar."
The trains were sealed for several years, and inside the cars were in disarray while appearing stuck in time.
"We opened them up this morning, and I think this is the first time in 10 years that anybody has been on some of these trains as you will see from the time capsule inside," Glaser said.
Water cups and cardboard boxes strewn across the floor, seat cushions ripped off, empty grocery bags from a local supermarket on a seat and a used "juicy apricots" scented candle on the counter of a café car.
There was also the sports section of a USA Today from Nov. 7, 2002, inside one train car and several October 2001 editions of Hudson Valley Magazine.
Building 533 in Rotterdam Corporate Park though held much more, with four-level shelving holding parts in unopened, wrapped boxes.
"There are 100 tractor trailer loads of parts made specifically for these trains sitting unused in a warehouse 10 minutes from here," Glaser said.
Vote on this Story by clicking on the Icon