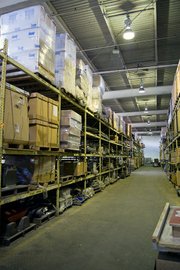 continued — Parts stored inside the warehouse include four large turbine engines, four medium turbine engines, one used medium turbine engine, eight train transmissions, eight new large electric generators, HVAC systems, dozens of new train wheels and brake rotors and hundreds of seat frames, cushions and upholstery.
Glaser said the previous train project was "well intentioned," but it was "extremely poorly executed."
The state currently has seven major rail initiatives, which include Harold Interlocking, Fourth Track at Rensselaer Station project, Albany Schenectady Double Track project, Schenectady Station, Ballston Spa Second Main Track, Buffalo Depew Station improvements and two signal projects on the Hudson Line.
The seven projects are being funded with $567.3 million from the federal government and $104.4 million from the state. The projects aim to improve, upgrade and modernize the state's rail infrastructure.
"We'll continue to fight waste and abuse and make sure taxpayers get their money's worth — no more trains to nowhere," Glaser said.
Vote on this Story by clicking on the Icon