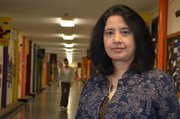 continued — "A student can always benefit from supplementary instruction," she said. "One-on-one instruction sometimes helps some students better than a classroom environment."
Vitale said the writing center also allows the school to stay connected with graduates and their needs.
"They can look at us as a place to always kind of come home for additional support and help," Vitale said. "The people who really know them as learners and writers can help them with their writing needs."
One student is already taking advantage off the services Subramanian is planning to offer at the writing center.
Zaina Siraj, an eighth-grade student at Brown School, is working on a book for young Muslim girls to help them with problems they might face in everyday life.
"As a Muslim, I personally have experienced hardships in school and outside of it, such as not fitting in or being different," Siraj said. "I want to be able to tell those young Muslim girls that they are not alone and that they don't need to feel put down or ashamed."
She said Subramanian has helped her edit her writing and also offers ideas when she gets stuck.
"I feel that the writing center would be a great way to help bring writers to a place where they can feel comfortable in sharing their ideas and making them become reality," Siraj said.
Subramanian has a background in technical writing and business writing, but she has also authored two books. Her first novel, "Waiting for the Perfect Dawn," began as a thesis for her graduate program at Union College, which focused on diversity and cultural issues.
Subramanian was chosen as one of four national finalists by the Norman Mailer Writing Center. Also, she received the Educator of Excellence Award from the New York State English Council in 2011.
Vote on this Story by clicking on the Icon