ALTAMONT — An Altamont man was arrested for burglary after he unlawfully entered a Guilderland residence.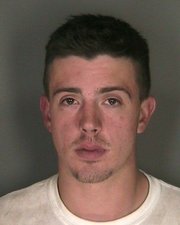 Cody Lassonde, 20, was arrested after he broke into a home on Veeder Road on Sunday, June 10, at 4:20 a.m. Police said the homeowner told Lassonde he did not know him and asked him to leave the property. Lassonde allegedly refused, demanding money from the homeowner for delivering two kegs of beer earlier. The homeowner told police no beer had been delivered and no order had been placed. Police said the homeowner then called 911.
Lassonde was found outside the residence when police arrived, and appeared to be intoxicated and possibly under the influence of drugs. Deputies eventually used a Taser on Lassonde, and he was arrested.
Police said Lassonde was charged with felony burglary in the second degree, and misdemeanor counts of criminal trespass and resisting arrest. He was arraigned in the Town of Guilderland Court and remanded to the Albany County correction Facility in lieu on $1,500 cash or bond. He will appear in court at a later date.
Vote on this Story by clicking on the Icon