SCHENECTADY — Even as the economy struggles to recover and the latest jobs report paints a dreary employment forecast, recent local college graduates appear to have found a promising path.
Schenectady County Community College graduate Derek Palmeri is already seeing a stable future, crediting his Associate of Applied Science degree in Nanoscale Materials Technology.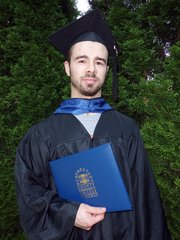 "It is the perfect program to be in right now," Palmeri said. "It has definitely proved very promising in the job search. I was hired with a full-time job before even graduating. Not many people can say that, especially nowadays."
Palmeri, a 22-year-old Guilderland resident, was hired at the College of Nanoscale Science and Engineering of the University at Albany after interning there his final semester before graduating last month.
Palmeri said he wasn't expecting it to be as smooth of a transition from college into the workforce. He said he even had a backup job because he was planning on working for a year while he applied for a job in his field.
"I definitely felt very honored," he said. "I hadn't had a lot of offers like that. … It was like the last thing I was expecting."
He said he thanks his professor and advisor Tania Cabrera because she recommended him and two other students for the internship at CNSE.
Fellow SCCC nanoscale graduate Ed Springli also faired well and was hired by GlobalFoundries before graduating.
"I was ecstatic," Springli said. "The reason I had gotten into the field was because I heard GlobalFoundries was going to be opening up a plant in Malta that would hire 1,600 employees."
Springli, a 24-year-old Clifton Park resident, said when he found out in March he was hired by GlobalFoundries it was the "best feeling he had had probably in his life so far."
Before coming to SCCC, Springli said he attended college for four years, but took some time off. Previously he was a computer science major, but it wasn't the right fit for him.
(Continued on Next Page)
Prev Next
Vote on this Story by clicking on the Icon