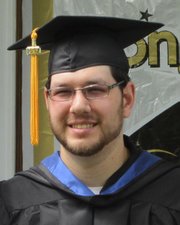 continued — "I found that I didn't like the programming aspect of computers, and I really liked the hardware aspect more," Springli said. "It is not putting code into a computer, you are actually building something. You are not sitting there at a computer typing lines and lines and lines of code."
He said the "general rule" for programming is for every 1,000 lines of code there will be five lines that are good.
"You can see how that would be tedious and boring," he said.
He also said he's faired better than fellow family members upon graduating.
He said he has a younger brother that graduated last year from the University of Missouri with a bachelor's degree in journalism, and he didn't have a job out of college. He also has a cousin who graduated last year with a bachelor's degree in construction management but didn't have a job lined up.
"I am the first one of my generation in my family to have a job before they finished college," he said, "so it feels great, and it definitely validates the choice I made in choosing this program."
SCCC adjunct professor Simon Miner, who taught Palmeri, said he sees the nanoscale industry heading in "a good direction" for students. Miner said having graduates being able to enter the workforce one step ahead is "attractive" for companies, leading to the spur of hiring.
"It started off as just a catchphrase, but is becoming that Tech Valley is a real thing," Miner said. "Companies are coming to this area, and there are not enough people trained in their technologies for their workforce."
Miner, a 32-year-old Schenectady resident, was also the first graduate of SCCC's nanoscale program in May 2009.
"I really understood like a lot of my students that this was where a lot of the jobs were going to be popping up," he said. "It is a growing field that has great opportunities for employment out of that two-year degree."
Vote on this Story by clicking on the Icon