NISKAYUNA — Two local teachers were surprised to see school administrators, students and members of the media storm into their classrooms Friday, June 1.
On that day, the Niskayuna Community Foundation presented Niskayuna High School teachers John Furey and Carol White with its eighth annual Murray Award for Excellence in Education.
The award is given to two Niskayuna High School teachers each year to recognize outstanding educators who foster student growth, improve the school and enhance student education. The $5,000 annual award began in 2004 by Kathy Murray Crowe and Jeanne Murray Veasey as a way to honor their parents, Edward and Sally Murray, and their involvement in the formation of the high school.
Furey, a physical education teacher, was in the weight room for his fitness class when he was surprised.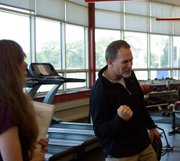 "It was a very nice honor," Furey. "To be recognized among such an elite faculty is truly humbling."
Furey, 54, has taught at the district for 17 years and is known for his catchphrase — "It's a great day to be a Warrior!" — which is printed on the back of school sweatshirts.
He believed he was recognized because he has a good attitude, and he tries to make "everybody's day bright."
"I work hard, and I put a lot of time into it," he said. "I love my work, and I think people can see that."
Outside of the classroom, he coaches the school's varsity football and baseball teams. He said he could use his $2,500 award money to benefit students or teachers.
White, an English teacher, was noticeably surprised and at a loss for words. She said she was "blown away" to receive the honor.
White, 43, has taught at the district for 18 years and she helped form the Shakespeare Club and Poetry in Unexpected Places. She is also the founding member of Java Jive and the Creative Writing Club.
Emily Neaton, an 18-year-old senior, credited White with making Shakespeare accessible and interesting.
"She teaches us in a way that makes us understand, and she doesn't just throw stuff at us," Neaton said. "She is just a really good teacher, and I think she deserves this."
Neaton was also the person that nominated White for the award.
"I am flattered that Emily nominated me," White said.
Kathleen Kemp, member of the Foundation's award committee, said there was "a long list of very worthy teachers." Kemp said both teachers exemplified what the Foundation looks for in an educator.
Vote on this Story by clicking on the Icon