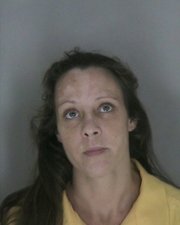 A Troy woman was arrested after being found with drugs and drug paraphernalia at Albany County Correctional Facility on Wednesday, June 13, according to the Albany County Sheriff's office.
Michelle L. Richards, 33, of 367 Third St. in Troy was charged with two counts of promoting prison contraband in the first degree, a felony, and criminal possession of a controlled substance in the seventh degree, a misdemeanor, according to the sheriff's office. While being processed into the jail, Richards was found to be in possession of a hypodermic needle and seven bags of heroin, according to the sheriff's office.
Richards was arraigned in Town of Colonie court and remanded back to jail without bail.
Vote on this Story by clicking on the Icon