NISKAYUNA — For one local man with fading eyesight, postal stamps can do more than mail a letter or bill — it can tell a slice of baseball history.
Richard Ratajak, an 82-year-old Niskayuna resident, on Tuesday, June 5, gave a presentation at the Niskayuna Senior Center on the U.S. Postal Service's upcoming release of its Major League Baseball All-Starts stamps collection.
The players on the four stamps include Joe DiMaggio, Ted Williams, Willie Stargell and the first black player in the American League, Larry Doby. The stamps will be unveiled during the Baseball Hall of Fame's annual induction ceremonies on July 20.
Ratajak isn't a stranger to Cooperstown either, because he has given three talks at the Baseball Hall of Fame on the sports-themed stamps.
He's hoping to do at least one more talk there to take home his "three-peat."
"I'm still waiting to do a grand slam," he said.
He said he started collecting Olympic pins and was a member of the Olympian Collectors Club. By chance, he said, he moved from pins to stamps.
"I used to think that stamp collecting is one of the most boring things you can do," he said. "You buy a stamp, lick it and put it in the book."
Now enthralled with stamps, he wishes there was more interest in the hobby.
"It is a very fascinating hobby, yet I wish there was more promotion of it," he said. "The postal service has done a great job issuing commemorative stamps. There are well over 50 just on the subject of baseball."
Even though he's legally blind now, he uses a magnifying glass to appreciate the "little masterpieces."
"To me, it is the next best thing to being in the bleachers," he said.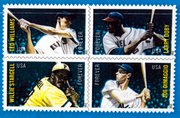 He said the story behind each stamp is interesting, and it's what drew him to collect stamps. Doing presentations also allows him to get out and share his passion.
(Continued on Next Page)
Prev Next
Vote on this Story by clicking on the Icon