RAVENA — A stolen debit card led Coeymans police to arrest a Ravena man who was suspect in a series of recent auto thefts.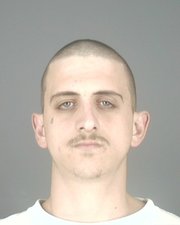 Joshua Duell, 26, had been the suspect in several burglary and vehicle theft cases occurring over several months in the Ravena area, according to police. He was finally arrested on Wednesday, June 6 after he used a debit card he allegedly stole to purchase a pack if cigarettes. Police said they were able to identify Duell through the footage of a security camera within the local convenience store where the purchase was made.
Because of the footage, police were able to obtain a search warrant for Duell's residence. Police said they found items reported stolen from various vehicles in Ravena. Police said they also found information that Duell stole a vehicle in December of 2011. He is still a suspect is other burglary and auto theft incidents.
Duell was charged with burglary in the second degree, grand theft in the third degree, grand theft in the fourth degree, two count of criminal possession of stolen property, petite larceny, and trespassing. He was arraigned is Ravena Town Court and sent to the Albany County Correctional Facility without bail. He will be re-arraigned on additional charges at a later date.
Vote on this Story by clicking on the Icon