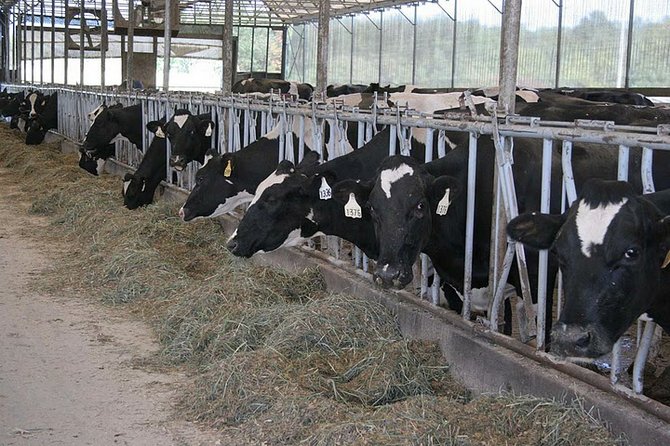 continued — Most of their cows are the standard black-and-white Holsteins, but they do have a few Jerseys, a breed known for their extra-long tongues. So if you take the tour, keep an eye out for tongue wagging brown cows.
A few years ago, David Wood retired from Saratoga County's Cornell Cooperative Extension as its Executive Director and had a hand in the county's Agricultural Plan. Promotional events like Sundae on the Farm were a big part of the plan, and he said that to date the event has been "very successful."
"Thinking that rather than some expensive programs, we thought promotion was one of the best ideas to preserve and promote agriculture," he said. "It certainly allows non-farm people to get a better idea of what a farm is and what farm life is like … it answers a lot of questions."
The event also provides the farmers time to visit with members of the community — and they can in turn answer questions the farmer may have. "I think it's a two way event," said Wood.
Jennifer Stevens is Cornell Cooperative's extension community educator. She said that the group is "proud to be involved in this very special celebration of agriculture."
"Sundae on the Farm is a wonderful way for families to experience up close, a real day on a local farm. It is critical to educate our children to be aware of where their food comes from," she said. "It gives everyone a unique opportunity to get to know their local farm families. In addition to the farm hosting Sundae on the Farm, there are a least a dozen other local farms represented in volunteer and educational roles. We are fortunate in Saratoga County to have so many local food sources available to us and farmers willing to share it with us."
Over 100 volunteers from the community, Cornell Cooperative Extension and the Agricultural Society will be helping to make the event a successful one.
Additional support for the event comes from American Farmland Trust, Saratoga County Farm Bureau, the Town of Charlton, the Saratoga County Ag and Farmland Protection Board, Saratoga County Chamber of Commerce and the Southern Saratoga County Chamber.
For more information on the event, visit saratogafarms.com.
Vote on this Story by clicking on the Icon