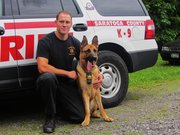 Saratoga — They wear badges and they're deputies – but if they apprehend you, chances are you'll need stitches. On the other hand, if you're lost and need help, you may discover how wet their noses are.

They're the dogs of the Saratoga County Sheriff's K9 Unit — 10 German Shepherds, each paired with an officer/handler whom they work and live with. They sniff out everything from drugs to missing persons, and making sure they're always at the ready is a full-time job in its own right.
Sergeant Andy Kelley has been with the unit for 20 years and oversees training.
"We start out with basic obedience … then you get into tracking from a hard surface to a grass surface to wooded areas," he said. From there, dogs develop specialties.
All of the dogs are certified for tracking, two have specialties in detecting explosives and the rest are trained to detect narcotics.
Training is done near the shelter and county jail, with additional training done in Cooperstown with the New York State Police. The German Shepherd breed is a good fit for police work and according to Kelley, all of them come from the Saratoga Animal Shelter.
He also said it's important a canine officer "always wins."
"You never want the dog to feel defeat. You always leave it on a positive … if he goes on a track and doesn't find somebody, we tell the guys to take him away from the scene and run a short reassuring track. Run it into the woods and hide, give him a quick find and give him his toy," he said.
Kelley and his officers meet monthly for training. Dogs are recertified every three years and need 96 hours of training annually.
Officer Kevin Lancto and his partner Nio have been with the unit since October. He said when there's an opening within the K9 Unit many officers apply as it's a popular post.
(Continued on Next Page)
Prev Next
Vote on this Story by clicking on the Icon