GUILDERLAND — Guilderland Public Library officials are hoping residents support a plan to build a new $12.9 million expansion to the library in the summer of 2013.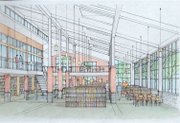 On Tuesday, June 26, a referendum will be put before residents to approve a bond for the entire sum of the project. The plan has been in the works since 2003.
"We did a series of long range planning efforts and performed surveys throughout the community," said Doug Morrissey, president of the library's Board of Trustees. "The only way to give residents what they said they wanted is to expand."
The library was built in 1992 and is 27,650 square feet. Since that time library attendance has more that doubled. Library Director Barbara Randall attributed that to community growth and the ability to provide better programming.
"We're out of space, it's that simple," she said. "We're out of space for materials, out of space for programming the community wants us to have and out of space for tutors to students. We're going to be focusing on the same things we're doing now, but more people can participate."
According to library officials, the waiting list to use library space is long and at times residents are waiting months for a room to open. Attendance to programs has also increased 1,000 percent since the library opened.
"One of the things that makes us unique is that Guilderland doesn't have a village square," said Randall. "Besides parks, we (the library) are one of the only places where people of all incomes and backgrounds can gather together."
The project would expand the building to 47,660 square feet. Morrissey said the plan would provide more space for a larger children's room, provide a larger reading room for adults, allow for more meeting and study rooms and create a center for local history and genealogy. Energy efficient lighting and geothermal heating and cooling would also be installed.
(Continued on Next Page)
Prev Next
Vote on this Story by clicking on the Icon