ROTTERDAM — Two more faces will greet Schalmont High School students next year and serve as role models for what they can achieve.
The Schalmont Central School District on Wednesday, June 6, inducted alumni Frank Gesek and Thomas Kernozek to its Wall of Distinction, which now showcases 17 alumni portraits. The Wall of Distinction was launched in 2007 to honor alumni who have made significant contributions to their school, community or country.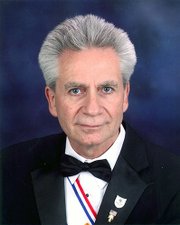 Class of 1974 graduate Gesek said he was honored to join the Wall of Distinction and credited the district for helping shape his future. After graduating, Gesek earned two bachelor's degrees in biology at Union College and pharmacology at the Massachusetts College of Pharmacy. He continued his education and earned a doctorate degree in pharmacology/physiology from Bowman Gray School of Medicine at Wake Forest University, then completed his postdoctoral fellowship at the Medical College of Virginia and specialized in nephrology, which is medical science dealing with kidneys.
He now works as chief of pharmacy at the White River Junction Veterans Administration in Vermont. He expressed fond memories of Schalmont.
"It was a great environment to get an education and it is one of those things that you carry with you. Not just the actual education, it is also the camaraderie that you always remember and carry forth," Gesek said. "It was just a great environment not only to grow up in, but actually to grow and go forward in college."
Gesek in high school explored his love of music and was a member of orchestra, choir and stage band. He also played in local rock and county bands. Money he earned from performances helped him pay for college.
Gesek said he had "great" music, science and math teachers and they inspired him to reach the next level and "go further."
(Continued on Next Page)
Prev Next
Vote on this Story by clicking on the Icon