SCHENECTADY — The state is again looking to sell the vacant Schenectady Armory, but the minimum asking price has been cut in half from the failed 2011 attempt to offload the property, when no bids were received.
The New York State Office of General Services on Monday, June 11, announced a public auction for the Schenectady Armory will be held on Tuesday, July 24, at Schenectady City Hall in Room 110. Registration will begin at 10 a.m. at City Hall and the auction will start at 11 a.m.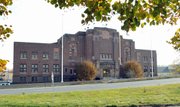 The 65,000-square-foot historic building sits on 1.9 acres and the minimum bid will be $180,000. The state's auction in May 2011 asked for a minimum of $395,000, but it failed to garner any interest from potential buyers.
Interested bidders are also required to present an initial deposit of $18,000 in the form of certified check or bank check to register for the auction. The balance of the purchase is due 120 days after notification of bid acceptance.
"We hope that this will bring out qualified bidders to be able to buy it for a price that will allow them to create a use for it that will benefit the taxpayers of Schenectady and reduce costs to the State of New York," said Heather Groll, a spokeswoman for OGS. "It was at a point where we want to get the property back onto the tax rolls, so we are putting it back up for sale."
Ray Gillen, commissioner of Schenectady County Economic Development and Planning and chairman of Schenectady Metroplex Development Authority, said the state has been "very cooperative" in trying to sell the building.
"They (OGS) have been extremely helpful and they have bent over backwards to help us out," Gillen said.
The building appears to have garnered some attention from potential buyers, too.
(Continued on Next Page)
Prev Next
Vote on this Story by clicking on the Icon