continued — "We have shown the property to a number of interested potential bidders," Gillen said. "We are hopeful there will be some responses and we can get the building into some active use."
Groll also said "a number of people" have contacted the state about the property over the past year. She said invitations would be sent to anyone who expressed interest to the state.
"There is certainly more interest in the area with the student housing next door and other investment in the area," Gillen said. "We kept telling them that having the student housing next door is going to help increase the value of everything down here."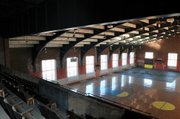 Groll said any development around the property is beneficial and could help spur interest.
"We are hoping that someone will find a use that is complimentary to the things that are around it," she said.
Gillen said a boundary line adjustment was done between the Armory and the new student housing for Schenectady County Community College. Gillen said the boundary was previously "jagged," but has now been straightened out.
The Schenectady Armory was built in 1936 and was designed by architect William Haugaard, who designed several other armories throughout the state. The design is similar to other early armories, with an administrative section for offices and a drill hall for military maneuvers practice.
It is listed on the National and State Register of Historic Places and could possible qualify for historic preservation tax credits and other historic property programs. The building has structural steel framing and brick masonry.
There is also a garage on site that was previously used as a maintenance facility.
There are some drawbacks for any buyers, such as limited parking and the likelihood extensive renovations will be needed.
The property is being sold "as is" and the state encouraged possible bidders to seek professional advice before the sale to assure compliance with building codes for any planned use.
Gillen said there is some on-site parking but "not much" and there is some parking nearby off site. He was unsure what renovations or remodeling are needed at the facility.
"There hasn't been any detailed engineering on the cost of updating the facility," he said.
For information on property details, including auction requirements and legal and reference documents, visit properties.esd.ny.gov/schenectady_armory.html. For additional photos of the property visit New York State Office of General Services Flickr album.
Below is a video shot by OGS on the property:
Vote on this Story by clicking on the Icon