continued — Tonko described firefighting as the "most demanding and most stressful situation" and occupation in society.
"We owe a great bit of debt to the men and women who serve us as firefighters and to their family members," Tonko said, "They endure the stressfulness of the job. Be it career or volunteer … it is a critical role in our society."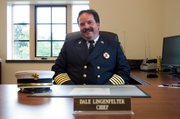 The department initially sought to bond $6.1 million in 2006 to build a new facility, but the public voted down the expenditure by an overwhelming majority.
Due to building code restrictions for essential service facilities, the department couldn't connect the new building to the current structure. The original bond proposal accounted for the restriction, but in 2008 the code changed to allow for an exception.
"We fired the process back up and changed our approach a little bit in communication with the public and we got the bond through," Lingenfelter said.
After securing a building permit in October 2010, he said the code changed back in December 2010.
"We got it through just in time," he said. "By building code right now we could not build this building if we tried to do it today, so we were very luck in that regard."
Lingenfelter said he didn't have any concern with adding onto the old building, which was originally constructed in 1937. Significant additions were also made in 1947 and 1967.
"It is an extremely sturdy building," he said. "It was brought up to the regular building code … even in the old building it is like a new building."
Landry said effectively communicating with residents was key to the department receiving support. He said holding open houses at the old facility allowed residents to understand the circumstances and reaching out allowed them join in the process.
"We spent a lot of time … evaluating the concerns that were expressed during that first bond attempt," he said. "We couldn't have asked for better support from the community."
Vote on this Story by clicking on the Icon