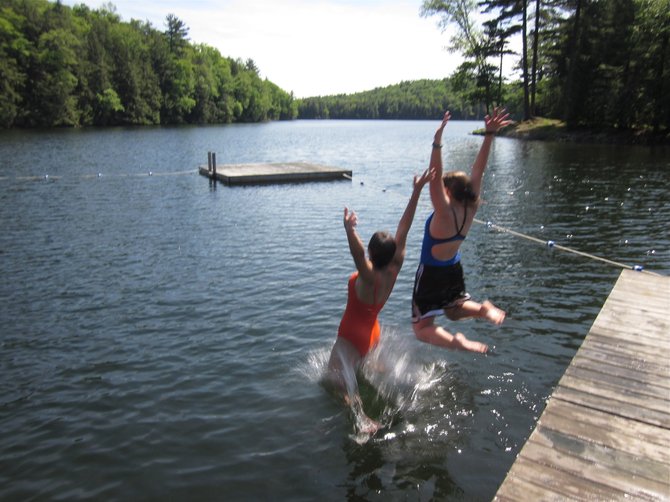 "It was a really special place for many, many people," said Tuzzolo of the camp's 70-year history with the scouts. She couldn't see it not continuing.
Tuzzolo enlisted the help of over 400 camp alumni, including Tayac, to form Friends of Camp Little Notch. Their hope is to raise money to purchase the camp from the Open Space Institute, which bought it from the Girl Scouts in a move initiated and facilitated by the alumni group.
Friends of Camp Little Notch have since partnered with the Open Space Institute with the understanding they will be able to buy the property within three years under a "lease to purchase agreement" in the amount of $1.09million for the 450-acre site.
"So far, we've raised about $400,000," said Tuzzolo. Sources of income include earned income, foundation and business contributions along with individual donations. The site includes a private lake and an iron smelting furnace from the 1800s.
The camp has retained much of what the Girl Scouts formerly included in their programs, and has built off of many of them. One program added by Tuzzolo is that of social consciousness.
"It gives the kids a chance to have conversations (about sensitive issues like racism) in a facilitated environment," she said.
Over a recent weekend, Tayac and her daughter Jansi, 10, traveled to Fort Ann to help Tuzzolo and other volunteers spiffy the place up for incoming campers. Jansi and her best friend CC from Belgium will be camping there later in the summer.
Jansi is excited about camping, and sees the prospects of and all-girl camp as being "much more comfortable" than with boys around.
Tayac is happy her daughter will be attending camp where she did, and added, "I always had the world of nature open to me and the possibilities of what girls and women could accomplish was a huge factor. Itwas a central place to much of my development."
Vote on this Story by clicking on the Icon