GLENVILLE — Parents: the next time your kids want to take up a new hobby, you may be able to think of it as a business proposal.
That's what happened to the Williams family, at least. Anna Williams was 8 years old when she decided the craft of pen making was something she wanted to explore. Her father, Michael, had shown her short video clip online about a teenage boy who was making pens and then selling the handmade writing tools.
"I only showed her 'cause I thought it was interesting and he was a young kid … not because I was expecting her to do it," Michael Williams said.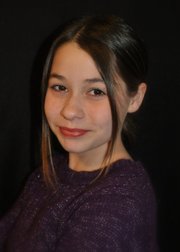 Now 11, Anna Williams has been making hand-turned pens for a year-and-a-half, using a lathe to turn wood and tools to carve out the design. Although her interest hasn't waned, it took some time to convince her parents to purchase a lathe and the needed supplies.
"I wanted to do it, so I kind of begged my dad for hours and hours and he still refused," she said.
Two years of persistence paid off, because once her father said "maybe" she knew she had persevered after being shot down for so long.
Her father bought her a lathe for around $130 and before he knew it she was asking for more pen kits. Originally, she had no intention to start her own business, but the door was opened after she was offered money for a pen.
Michael Williams said he set up a website, pensink.com, for his daughter to share her hobby with family and friends. It was also a way for people to purchase a pen by cash or check. Then the website attracted a customer from across the globe.
"Her order from Australia is when we realized it feels like we have a little business here," he said. "It really kind of went from a hobby and moved into a business."
(Continued on Next Page)
Prev Next
Vote on this Story by clicking on the Icon