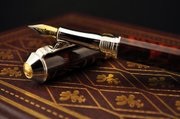 continued — From there, Pens Ink became a reality and now receives orders from all over the world, including from Russia and India. Anna Williams has taught herself along the way and learned the craft through trial and error.
"I like everything about owning a business," she said.
She is also the youngest member of The Chamber of Southern Saratoga County, joining in February after her business became profitable.
She enjoys going to mixers the Chamber hosts, although at first she was a little reluctant to meet with professionals who were much older and taller than her.
"I am a kid and I am kind of looking up to them, literally," she said. "I like going to mixers and meeting new people."
Even though she tries to be as professional as fellow Chamber members, she said some-times she just "doesn't want to be" and wants to be a kid, but she keeps her composure.
Being a business owner at such a young age does have its challenges.
"It is hard to juggle everything," she said. "It is kind of cool and weird and a little scary at times."
She is graduating from the fifth grade at Glencliff Elementary School this year and balancing school, friends, Pens Ink and other hobbies and interest isn't the easiest task. The experience she is gaining is worth the effort to her, though.
"It is definitely worth having a business because of the experience," she said.
She said most of her friends are "very supportive," but sometimes they don't adjust to it as easily.
"Even your best friends are sometimes going to be intimidated by what you do," she said.
All of her profits have mostly gone towards buying more inventory, but Williams is eyeing an iPad or a similar device to help her stay organized and take better pictures.
Vote on this Story by clicking on the Icon