continued — Once she saves up enough money, she said she wants to donate to charities.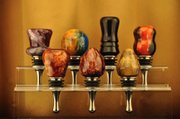 On a suggestion from a customer, she expanded her craft and started making wine stoppers. She admits it was an odd proposition at first, but she found wine stoppers to offer more artistic freedom than pens did.
"People are going to want it and I can make it," she said. "Wine stoppers are so fun to make, because they are freehand."
She said she wants to continue with the business, but she hasn't looked into what she wants to do when she is "grown up." She half joked if her business expands too much more, she would need to hire some employees.
"This is just me getting noticed, so it could just lead into something different," she said.
Michael Williams said his daughter has always been adventurous and wanted to try new things.
"She has a lot of interests and a lot of energy … sometimes it is kind of hard keeping up with her," he said. "I'm just glad I listened to her. It took me two years, but I'm glad I gave her a shot."
For information on Anna Williams' products or to purchase an item, visit pensink.com.
Vote on this Story by clicking on the Icon