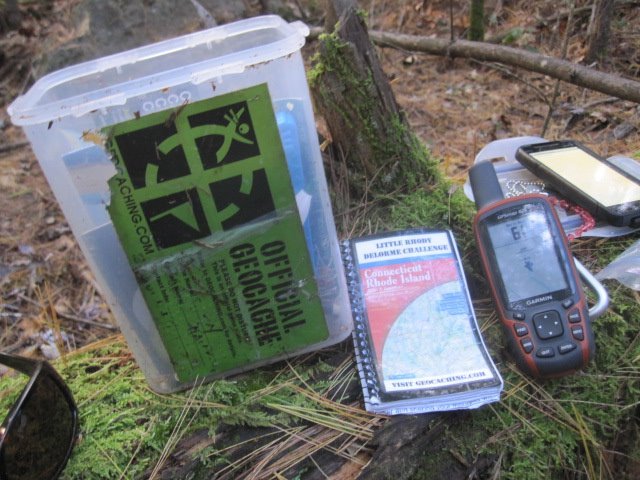 continued — Geocaching involves finding hidden items byway of global positions system coordinates. People can look up caches via sites like geocaching.com then head out into the field to locate them, almost always with the help of a handheld GPS unit. The website figures there are more than one million geocaches worldwide.
Here in the northeast there are several geocaching clubs, including the New York Capital Region Geocachers, with over 200 members, and Blue Line Geocachers which is focused in and around the Adirondack Park.
The Capital Region Geocachers hold various events throughout the year, including an annual picnic.
"People will go everywhere from around Lake George down to Kingston … The group is actually fairly active," said Monahan. "It's a great family activity."
He also said that there is now a merit badge in the Boy Scouts for geocaching.
Cache containers usually contain trinkets and a logbook for the finder to record their find. Hiding spots range from out in the open to cleverly hidden and can be from a short walk up to several miles deep into a park or wilderness.
"Containers need to be waterproof. Common ones include ammunition containers. They're not supposed to be buried, they can be up high or under rocks and can also be hidden in a city," said Francis.

According to Monahan, caches are also generally rated on a scale of difficulty from one to five. He's found some interesting caches and said the rule is that if you take an item from the cache, the finder is to "trade up or trade even."
"The most interesting one I found had a really ornate carved salt and pepper shaker. A lot of them have kids toys like rubber duckies," he said.
Drum's parents get out quite a bit in search of caches.
"They go out almost every weekend and often on weekdays. They get email updates on new caches, and have been known to get up and out the door as soon as a new one is listed nearby to get the "first to find" recognition," said Drum.
She said visitors to Mine Kill State Park are enjoying the searches.
"So far, two people have found all 44 of the caches… We have offered several 'Learn to Geocache' workshops which have been fun for kids and adults alike."
For more information on geocaching, visit geocaching.com. For more on the challenge, visit nysparks.com.
Vote on this Story by clicking on the Icon