continued — "I've been speaking to high schoolers on my platform, which is beauty and body image," said Paulsen. "I've been a model myself and from the pictures of myself I look totally different than I actually look because they're edited."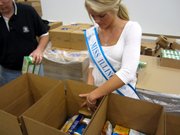 Paulsen exposes the photo editing process to show students that flawless magazine cover girls aren't what they seem. She tells them that perfection doesn't exist and to focus on "what we're doing versus what we're looking like while we do it."
She doesn't tell girls to throw away their makeup or walk around with their hair uncombed, though. "There's nothing wrong with looking nice," she said. The trouble is when that's all that matters.
"I realized culture tells us as women we're here to be adornments and decorations," said Paulsen. "(The media say) if you're not beautiful, you're not worth as much as someone else who is physically beautiful."
She said even though she's pretty and blonde, fit and naturally thin, she knows what it's like to want even more. She also knows what it's like to arrive at what is perceived as an "ideal" body image and to realize it's not.
"When I was in high school I was really sick with Lyme Disease for two years, was bedridden at one point. I got really skinny … almost looked skeletal and it was an ideal I had in mind beforehand; if I was that skinny I'd be worth more," said Paulsen. "I'd never fallen into it (on my own) but once it was actually there I realized this means nothing. What's next?"
If she's crowned queen of the USA Ambassador Pageant, Paulsen has plans to take her platform even further. She said she wants to tell young girls that "we can't define who we are by what we look like" and will encourage them to create an identity that goes beyond physical appearances.
Vote on this Story by clicking on the Icon